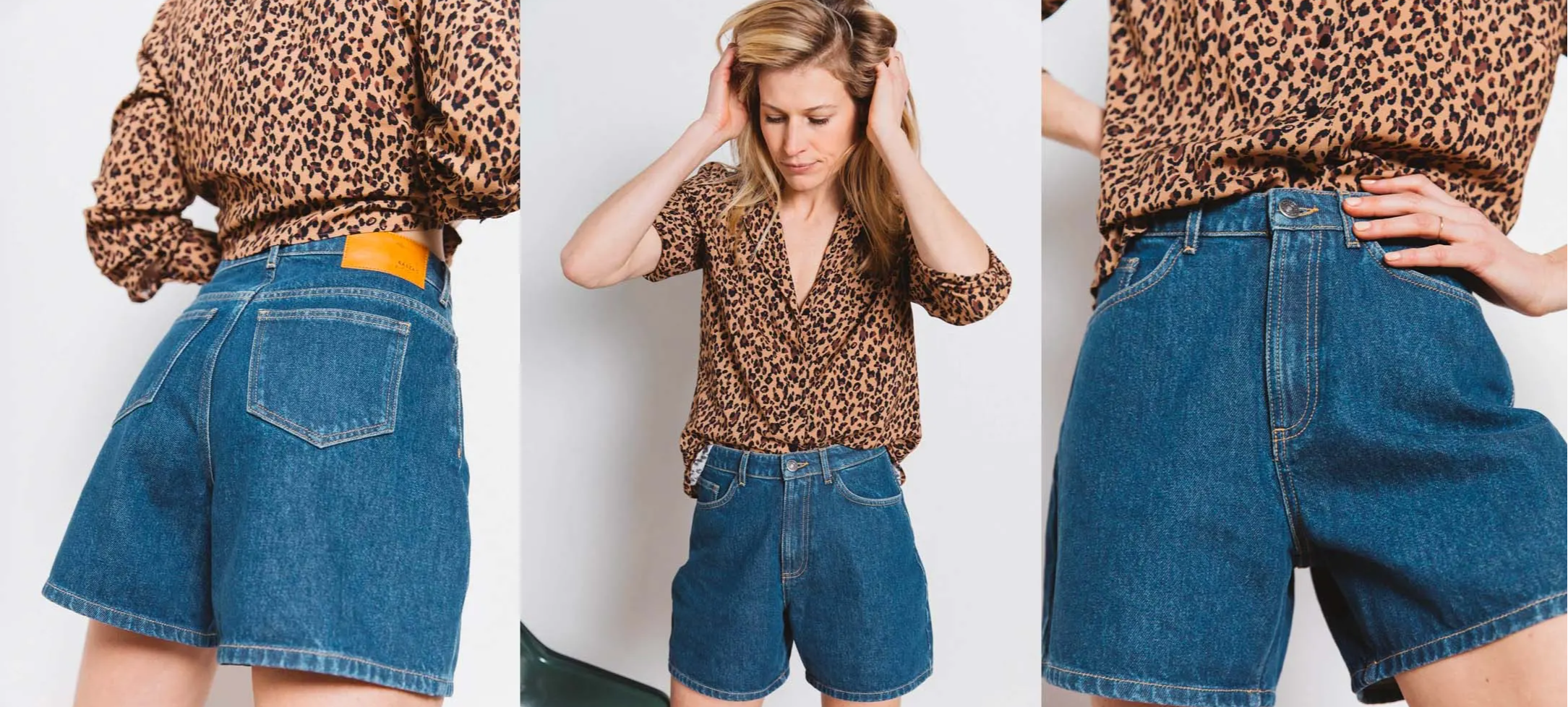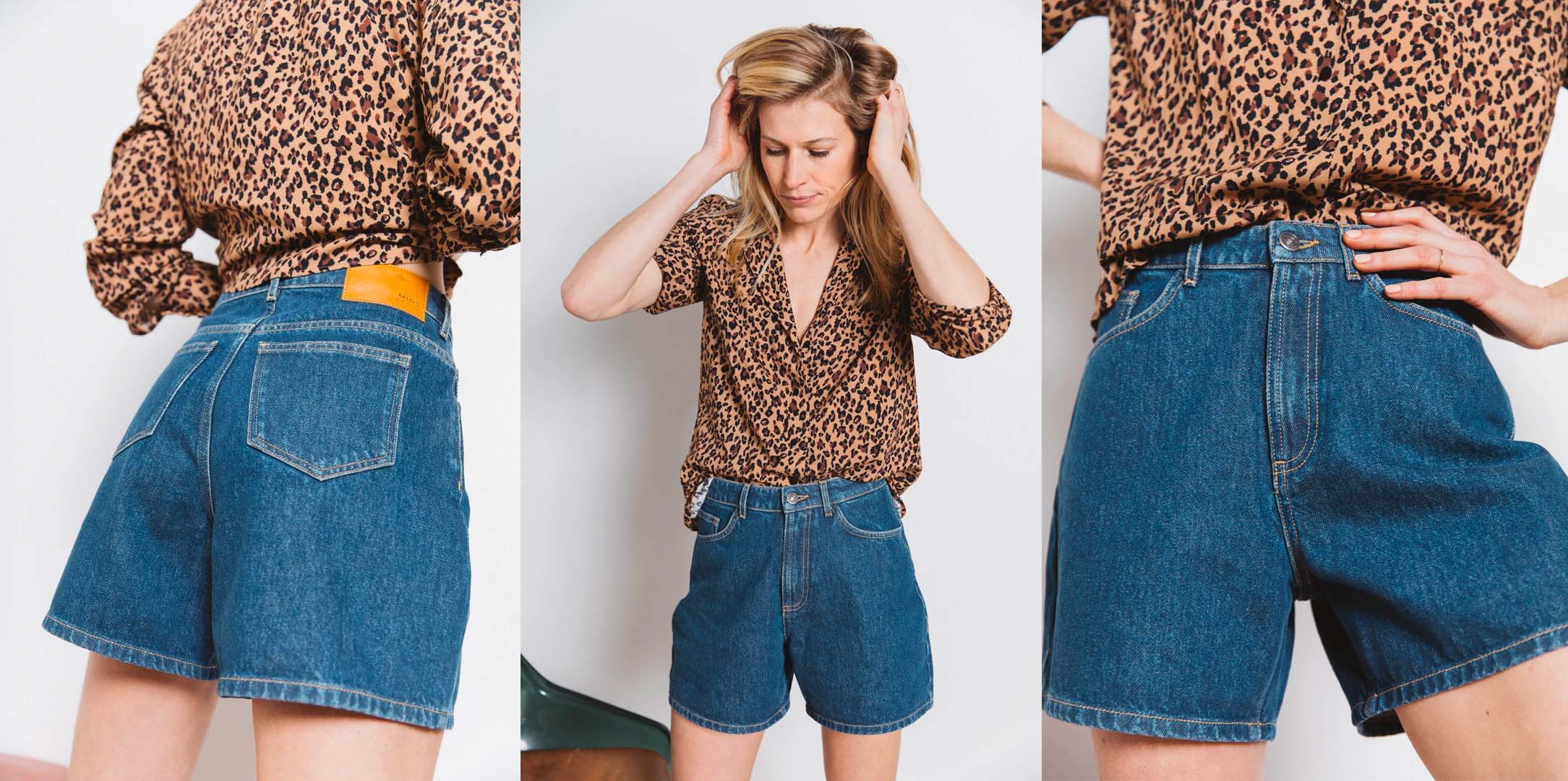 Choose short -waisted shorts depending on your morphology
Good news: the shorts High waist adjusts on almost all silhouettes. Apart from morphologies in H, which have a very little marked size with shoulders and hips in the same alignment and which can afford all types of shorts, here are our tips in depending on your morphology:
The

OM morphologies, which are distinguished by a generous chest and plump buttocks, will see their forms highlighted by a

shorts

tall. The flared models or straight cuts are a good option. A

shorts

With vertical stripes can extend the silhouette and enhance the curves.

The

MORPHOLOGIES A, whose hips are wider than the shoulders, can bet on simplicity! A pretty

shorts

High waist with a simple cut and a plain color will adjust wonderfully on the designed hips.

The

V -MANAGE

, which have the distinction of having wider shoulders than the rest of the body, must attract all eyes on their pretty legs! We put on prints and play with details.

The

Morphologies in 8 have a marked size, hips and aligned shoulders. A

shorts

High, curved waist, will transform the silhouette into a goddess body! The belts and laces are accessories with which you should not be afraid to play, they mark the size and flatter the general pace.
Choose the suitable length
The right rule for the shorts Perfect is: neither too short nor too long. A shorts Too short will tend to lose its elegance and the fall could be less pretty. Conversely, a shorts Too long could tend to tamp the silhouette.
Some basic rules will prevent you from missing: to remain elegant, exit the buttocks that exceed the shorts, just like the shorts With its visible interior pockets. If you are targeting a elegant look, remember that the fabric should cover a third of your thighs, no need to take out your calculates: let go of your arms along the body, if the shorts Arrives higher than the tip of your fingers is that it may be a bit short.
Of course, it is not forbidden to brave the rules! If you fall in love with a mini-short that flats your figure, you can marry it in style and wear it with a pretty pair of sandals Elegant to balance the situation. What if a shorts long waist You make your eye, you can wear it with small heels to prune your silhouette.
Choose the right material according to the season
Who said that the shorts Should not be out until the sun shone? Not us ! Summer and winter, we dare the shorts tall And we play with materials.
In winter, we put on his favorite pair of tights and we let ourselves be charmed by a pretty shorts high waist leather, a timeless that will remain in your dressing room for a long time! The most daring or the most cautious can try at shorts Wool to avoid cold strokes. the shorts High tweed waist is an elegant and classic option that we sometimes forget.
the shorts High denim Was in any season, summer and winter, on bare legs or with tights, it is a timeless to adopt! the shorts Mom high waist, with his vintage gaits, is a must to slip into his dressing room. Pleasant to wear, shorts in linen Or in cotton are perfect for summer when temperatures climb! the shorts In ample jeans guarantees you the pinnacle of comfort when summer has arrived, freedom of movement! The shorts fluid High waist are also a happiness to wear in summer! And if you like pretty materials, embellish your evening outfit with a shorts High silk waist to shine all night!
Look 4 / My Beautiful Bermuda
Combine your high waist shorts well
All weddings work with shorts tall. This Best-seller of the wardrobe Was in town as at the beach, for a casual style, street or more elegant. What better outfit to go to the beach than to put on a shorts High fluid waist on a nice swimsuit ? To greet the sea, you can also put on a high waist bath shorts, no need to leave him to offer himself a swim!
In summer, we can wear a Bermuda tall with a T-shirt Large and short or a top near the body bordered in shorts. A shirt white associated with a shorts High waist will give an elegant rendering, no misstep possible! Play with colors is not prohibited, if we wear a shorts high black or white waist, it can be associated with a sweater or one high colored. Blouse, hat ... everything is allowed with the shorts, we listen to his desires and we flatter his morphology!
For a particularly elegant look We associate the shorts high waist to a blazer or a trench. We accessorize your outfit with a loop belt, we play with the eco-responsible shoes : flat sandals, sneakers, boots… All styles are allowed.
Before going out, we catch our ethical handbag Who completes his outfit, we take a last look at the mirror to check that we like our silhouette and we are ready to attract all eyes!
Inspiration - How to wear high waist shorts?